I frequently get asked what hardware/software/technology I prefer for certain pursuits. I decided it was easier to list it all in one place and point people to that, rather than keep answering the question in different ways.
To that end, what follows is my "toolbox". All of the information technology hardware and software that I use for the various things I do. Now the real challenge comes: keeping it up to date!
If you have questions, or suggestions, please add them to comments!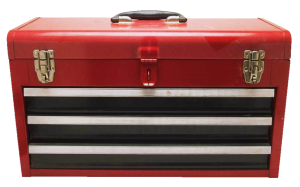 My Toolbox
Last updated: June 3, 2012 Aug 31, 2016 Feb 26, 2017 Nov 01, 2019 Jan 01, 2023 (see, I knew I was gonna slack and not update it!)
Computers

Primary Workstation (Windows 10)

Desktop w/Intel i7-7700K quad core CPU, 16 GB DDR4 RAM, NVIDIA GeForce RTX 3070 GPU
Storage 240 GB SSD, 500 GB SSD, 3 TB SATA
Water cooled
Three 24″ 16:9 displays
One 40″ TCL Series 5 display
Logitech C920 HD Webcam
Razer Basilisk v2 wired mouse

Backup Music Production (Windows 11)

Laptop w/Intel i7 quad core CPU, 8 GB DDR3 RAM, 15″ HD Screen, 256GB SSD, 3TB eSATA drive
Logitech Trackman Wireless mouse

Media Server (Jellyfin)

Quad core i5 CPU, 8GB DDR4 RAM
Two 3TB external USB Drives

Mobile Devices

Google Pixel 6 Pro
Valve SteamDeck 512mb


Audio Hardware

Primary Interface: Focusrite Scarlett 18i8
Mixing Headphones: AKG K702, open back
Pre-Amp: ART Tube MP/C (tube amp with Opto Compressor-Limiter)
Streaming Microphone: Shure SM-7b (large diaphragm dynamic)
Other Mics

Large diaphragm condenser: AKG Perception 200
Large diaphragm condenser: MXL 990
Dynamic: Shure SM58
Dynamic: Shure SM57
Lavalier: Big Squid podcaster stereo (small condenser omnidirectional)
TC Helicon VoiceLive Play multi-effects processor

Portable Recording: Zoom H4n Handy Recorder
Primary Bass: Epiphone Thunderbird four string

Boss ME50 multi-effects pedal

Primary Guitar: Epiphone SG six string

Boss ME25 multi-effects pedal

Primary Keys: Sequential Prophet Rev 2

Analog polyphonic synth (16 voices)

Audio Software
Graphics Software
Internet Software